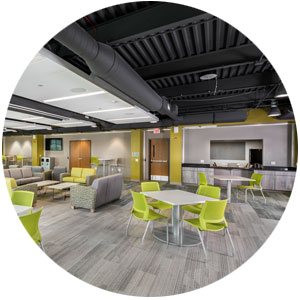 2020
In the midst of the global coronavirus pandemic, we reflect on our history and the future. In the last 6 years we have looked at personal growth to drive cultural change within while evolving our design and service to our client. Focus on internal change fuels ever better service to our clients and our own personal and professional growth. We have relocated our offices to a creative environment that encourages the collaborative design approach and learning together for a common goal in a fun, energetic, social environment. The world is literally changing at a rapid pace. Our operations turned to fully remote service to our clients and team communication over 24 hours. Our strength, determination and commitment to change in this moment will ensure our continued success as we look forward to guiding our clients on their important projects.
2009
In our pursuit of the advancement of Living/Learning facility design, we determined that this niche building type required specialty engineering solutions to keep pace with increased client demands. Our 2009 restructuring as Mach Architecture, p.c. allowed us to team with a vast array of engineering firms to continue to bring innovative ideas to the process. This change, coupled with our de-merger from Bernier Carr & Associates, p.c. has established our brand as a premiere architectural firm in the northeast with a specialty focus on campus housing.
2000's
Having provided design services on numerous housing projects through the '80s and '90s, together with the advances that we made in the design of educational facilities, we began to explore the many benefits of combining these two building types into Living/Learning communities. Starting with Binghamton University's 1076 bed residential complex in 2003, and progressing to SUNY Brockport's 256 bed Design Build residential hall, we have worked on over 10,000 beds, many with extensive learning components at numerous college campuses across the state. In the last few years as we have incorporated Design Build into the collaborative process, we have seen that this paradigm results in cost savings and schedule improvements, while still providing for a high quality design solution specific to each Campus.
Mid-1990
Our reorganization in the mid '90s as Mach Architecture + Engineering, p.c. and our subsequent merger with Bernier Carr & Associates, p.c. of Watertown, New York, strengthened our belief that the most efficient way to service our educational clients was to be "full service" thus providing all engineering disciplines in house. Our commitment to this business structure signaled a strengthened focus to efficiently deliver high quality design under a collaborative model. The Chautauqua Lake K-12 facility, completed in 2000, represented the essence of the collaborative process which strived to maximize innovation and raised the bar for future educational projects.
1980's – 1990's
In the '80s as the firm specialized on the design of "technology rich" television broadcast stations throughout the northeast, we explored the ever-changing relationship of cutting edge technologies on facility design. As we broadened our market focus to educational facilities, we were well prepared for the challenges that came with the K-12 and Higher Education building boom of the late '80s and early '90s. Notable projects such as the Charles R. Drew Magnet School 59 and the Student Activities Center at SUNY Buffalo positioned us for continued growth in the educational market.
1983
Originally founded in 1983 as Stieglitz Stieglitz Tries, p.c. the firm's commitment to "energy conscious design" (many years before LEED and sustainability were common terms in our market) solidified a design approach that we continue to focus on today.
As I look back at our rich history, I am reminded that through our leadership changed and firm reorganizations, we have always relied on certain basic guiding principles that will continue to be our foundation. These principles, relative to Design, Service and Culture, represent the values that have guided our success through almost five decades of service.
These are:
Lead with Integrity
Provide the highest level of honesty, accountability and professionalism
Drive Innovation
Find the right mix of imagination, technology and function
Commit to the Collaborative Process
Design with, not for the client
Deliver Enduring Value
Have an aesthetic that is timeless, but is always in the moment for the user
No single business model ensures a company's survival over the long term. Success or failure is determined by how capable a firm is at adapting to change. Having been an integral part of this firm for over 30 years, and having led all of the restructuring and leadership changes, my belief is that the firm will continue to evolve, mindful of our guiding principles while being shaped by the contributions of those who lead the firm. As we close in on our first 40 years, I am professionally satisfied by our accomplishments and am extremely excited as to where our current leadership will guide the firm. As Steve Jobs said… "Great things in business are never done by one person. They're done by a team of people".
Robin R. Mach
Founder and Past President
Mach Architecture, p.c.